Vanilla Luxury | 5 Natural Skincare Brands in Singapore You Have to Try Right Now | Paraben-Free, Sulphate-Free
Seeking brands that work with nature to get the best out of your skin? These natural skincare brands have got your back.
It's time for some serious TLC for the skin and naturally so! We've always known about the power of natural products and now with the range of non-toxic beauty brands available in Singapore, we really are spoilt for choice. From homegrown heroes to inspiring international companies, these natural skincare brands are ones to try – and right now!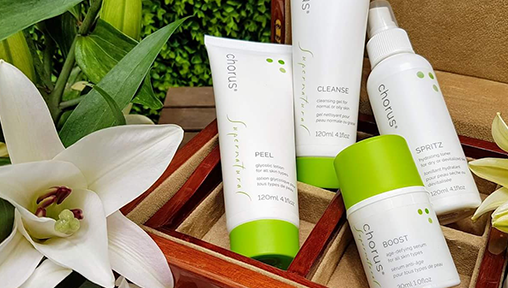 Chorus Supernatural's luxurious line of advanced natural skincare, hair and body care from Canada is formulated with the finest of botanicals and pure essential oils. Absolutely 100% natural and 100% free of any harsh chemicals and synthetics, each product also comes with a safety rating that shows you exactly how toxic your purchase is!
If you are new to the brand give their popular Cleanse daily cleanser a shot. This hypoallergenic cleansing gel is non-drying and blended with moor, seaweed extract and other natural ingredients such as tea tree oil, lavender, lemongrass, and ylang-ylang. The Chorus Peel, on the other hand, is a customer favourite exfoliant peel treatment that is formulated with glycolic acid and helps to lift away dead skin cells to reveal that radiant, glowing complexion.
For those of you looking for an all-encompassing, potent age-defying product, Chorus Revitalize is a great (and natural!) alternative to collagen injections. Customers find themselves with visibly more supple, younger looking skin and that too minus the nasties! But that's not all, the Chorus Supernatural's award-winning sulphate free shampoos are pretty amazing too! Customers love the visibly healthy shine that emerges within just a few washes with that gorgeous natural volume we all seek.
It goes without saying that all Chorus Supernatural's products are a one-hundred per cent clear of harsh chemicals and synthetics. This means they are completely free of parabens, sulphates, artificial fragrances/colours, silicone, mineral oil & propylene glycol. 100% natural skincare and haircare, at its best!
Full article by Vanilla Luxury here.
ABOUT THE BRAND
CHORUS is luxurious line of advanced natural skin, hair, wellness and baby care products from Canada, formulated with the finest botanicals & pure essential oils. Endorsed by a top anti-ageing specialist, Chorus all-natural beauty line is recipient to multiple beauty awards, with hosts of 5 stars beauty reviews. 100% natural, 100% free of any harsh chemicals & synthetics. Paraben-free, sulphate-free, silicone-free.
FREE OF
Parabens, sulphates (SLS/SLES), proplyene gycol, PEG, synthetic fragrance, synthetic colours, mineral oil & more. Certified by CertClean, with top safety ratings by EWG Skin Deep.
Find out more HERE.